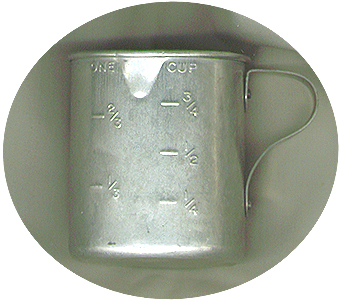 Another Aluminum Measuring Cup
September 28, 2002

There is a local Church that hosts a BIG sale once a year.
They call it the "Holy Smoke BBQ & Garage Sale".
All of the proceeds go to local charities--Hun Bun and I try to never miss it.


Among the many treasures we found there this year, this aluminum measuring cup was one of them.
I thought I might have one like this already but, it turns out that I didn't.
The measurements are only embossed on one side.
It will too join my growing collection of stuff on my utensil rack, it was 10¢.


Click The Little Cookbook To Go



Back To The Main Page
Click The Mouse



To E-mail Mimi


Blujay - 100% Free Online Marketplace

October 1, 2002