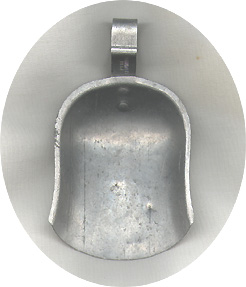 Unique Aluminum Scoop
December 1, 2001

We had just dropped our Bunchkin off at work and picked up a few things we needed when Hunny Bunny said, "Let's go to Huntsville." Don't ya just love unexpected, unplanned outings???
Hunny Bunny is so spontanious.

It had been a long time (January, 2001) since we'd been to Huntsville. I found this unique aluminum scoop--it is embossed on the handle "PURE ALUMINUM".
I wonder what it's original use was??? It was $2.95.

Click The Little Cookbook To Go



Back To The Main Page
Click The Mouse



To E-mail Mimi


Blujay - 100% Free Online Marketplace

December 5, 2001