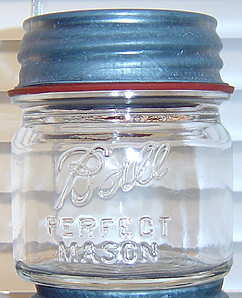 Another Ball Perfect Mason ½ Pint
July 31, 2004

This jar was part of a group of jars we acquired from an estate.
It still had jelly in it and was sealed with wax.
Cute as a button, the jar cleaned up nice. No chips, cracks or stains.
Although this jar is unlisted in my reference book, larger sizes are listed.
This one would be a RB9 277.




Click The Little Cookbook To Go



Back To The Main Page
Click The Mouse



To E-mail Mimi



Blujay - 100% Free Online Marketplace

August 1, 2004