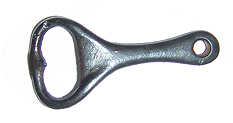 Cast Iron Bottle Opener - April 22, 2004

I was out running errands and stopped at the Senior Citizens Resale Shop in Onalaska.
I try to stop there whenever I am going that way.
On this day, I just happened to look in the large glass display case.
Tip: ALWAYS look in display cases--you never know what you will find!!!
This little unmarked cast iron bottle opener was in that display case,
tucked inside a plastic bag and marked 50¢.


Click The Little Cookbook To Go



Back To The Main Page


Blujay - 100% Free Online Marketplace

2004