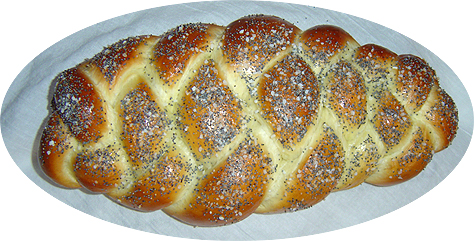 Challah

To say that this recipe is "tried and true" would be an understatement.
I began to study the Hebrew language in August of 2002
and was asked to make the Challah every Friday soon thereafter.
I have been making it ever since.
It is almost embarrassing that there are so many compliments and
everyone is always so surprised that it is home made.
Well, my bread machine's dough cycle helps me along the way.


I have developed many variations to keep things interesting.
It turns out that this Challah making is in my blood.
I always knew that my Grandfather was in the bakery business but,
through a conversation with my Dad,
it was revealed that the flour and water flow even further back.
Turns out that not only was Grandpa a career baker (45 years according to Dad)
but, his parents were also bakers in Poland before emigrating to the United States.

Original recipe from: The Bread Machine Book by Marjie Lambert
I have been using this recipe for 2 years now (2002-2004),
have devised several variations and
every single one has turned out great.
Just some notes to help you along--I use JUMBO eggs,
bottled water, real butter and Kosher salt.
One pound loaf:
2 eggs
1/4 cup water
1 Tablespoon butter
2 Tablespoons sugar
1 teaspoon salt
2 cups bread flour
2 teaspoons yeast
One and one-half pound loaf:
3 eggs
1/3 cup water
1 1/2 Tablespoons butter
3 Tablespoons sugar
1 1/2 teaspoons salt
3 cups bread flour
1 Tablespoons yeast
Glaze: 1 egg, well beaten
Toppings: Poppy seeds, sesame seeds or kosher salt.
You can also just use the egg wash and leave it plain.
See other variations below.
Put ingredients in bread pan in order suggested by your bread machine instructions.
Set for dough cycle, press start. When dough is ready, remove and punch down.
Cut dough into three (or four or six) equal parts.
Roll each piece into a rope about 12 inches long (for the one pound loaf).
The ropes for the 1 1/2 pound loaf will be longer, about 16 to 18 inches.
The more ropes you have the shorter they will be. Braid ropes together.
Pinch the ends together and turn them under.
Cover the loaf and set in a warm place
to rise until doubled in volume, for up to one hour.
Preheat oven to 350 degrees.
Make glaze by beating egg with fork. Brush lightly over loaf.
Don't let the egg wash "pool" in the crevaces.
The wash should be wet looking but not heavy.
Use a light hand. Sprinkle top with topping of your choice, if wanted.
Bake until top is nicely browned, 20 to 24 minutes.
Be sure to turn loaf around in oven halfway during baking time.
Set a timer for 10-12 minutes, turn the loaf,
set timer for another 10-12 minutes to finish baking.
I have made so far these variations:
Raisin-Craisin--just add 6 tablespoons
(dredge them in a little flour so they will be evenly distributed in the dough).
The last loaf I made had 2 tablespoons each of
raisins, golden raisins and dried cranberries (craisins).
You can also add 1/2 teaspoon of cinnamon.
7 Herb--add two teaspoons of this mixture to the dough
and up to two teaspoons sprinkled on top:
3 Tablespoons oregano leaves, dried
3 Tablespoons savory leaves, dried
3 Tablespoons thyme leaves, dried
2 Tablespoons lavender flowers, dried
1 teaspoon basil leaves, dried
1 teaspoon rosemary leaves, dried
1 teaspoon sage leaves, dried
Combine all of the herbs and mix well.
Store in a small glass jar with a lid.
Everything--two teaspoons of this mixture in the dough and
two teaspoons sprinkled on top.
Mix in equal amounts and store in a glass jar with a lid:
minced onion--dried
minced garlic--dried
poppy seeds
kosher salt
sesame seeds
Light Rye--replace 1/2 cup of the bread flour
with 1/2 cup rye flour.
Use 1 teaspoon caraway seeds in the dough
and another 1 teaspoon sprinkled on top.
Onion Rye--Replace 1/2 cup of the bread flour with 1/2 cup rye flour.
2 Tablespoons minced, dried onion + 1 teaspoon each fennel & caraway seeds in dough.
1 Tablespoon minced, dried onion + 1 teaspoon each fennel & caraway seeds on top.
Italian--add 2 teaspoons of this mixture into the dough
and 2 teaspoons on top.
Store any leftover herb mixture in a glass jar with a lid:
1 teaspoon fennel seeds
2 teaspoons granulated minced garlic
2 teaspoons oregano
2 teaspoons basil
2 teaspoons parsley
Shaker Herb--Add 1/2 teaspoon each in the dough: Celery Seed, caraway seed, sage and nutmeg.
1/4 teaspoon celery seed and 1/4 teaspoon caraway seed sprinkled on top.
Three Seed--Mix in equal amounts: Poppy seeds, flax seeds and sesame seeds.
Add 2 teaspoons to dough and sprinkle up to 2 teaspoons on top.

Click The Little Cookbook To Go



Back To The Main Page

August 18, 2004