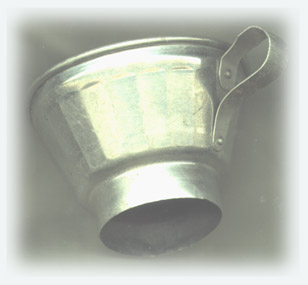 Embossed Aluminum Canning Funnel
January 27, 2001

We were starting to get cabin fever. It had been a long while since I had shopped the antique shops in Huntsville, Texas so, we spent the day there. I found this canning funnel.
It was $2.50 and in pretty good shape with a few minor imperfections.


I had been looking for one like it for quite some time!!!

Click The Little Cookbook To Go



Back To The Main Page
Click The Mouse



To E-mail Mimi


Blujay - 100% Free Online Marketplace

January 27, 2001