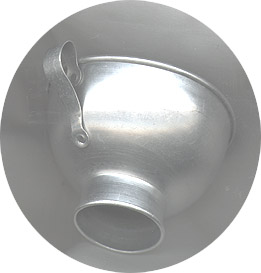 Aluminum Canning Funnel - March 16, 2001
Jefferson, Texas

With this find in Jefferson, I now have ten canning funnels.
Eight of them are aluminum and they are all different.
This one was spotted by Hunny Bunny and me at almost the same time.
It was sitting on top of a milk bottle and has rolled edges.
It is in very good condition and was a bargain for $2.


Click The Little Cookbook To Go



Back To The Main Page
Click The Mouse



To E-mail Mimi


Blujay - 100% Free Online Marketplace

March 28, 2001