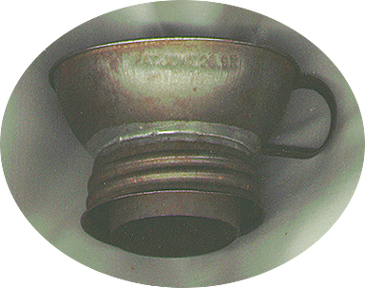 Canning Funnel - PAT. JUNE 29. 97.
November 16, 2002

While Hunny Bunny and I were wandering around our local trade days,
I discovered this little gem in a box full of stuff--in a booth that had mostly furniture.
Tip: ALWAYS look in boxes--you never know what you will find--exploring is half the fun!!!
It is marked (embossed) PAT. JUNE 29. 97. <---That is 1897, not 1997.
It is really a unique design--it screws onto the jar.
I was surprised when I looked at the tag--only $2!!!


Click The Little Cookbook To Go



Back To The Main Page
Click The Mouse



To E-mail Mimi


Blujay - 100% Free Online Marketplace

November 16, 2002