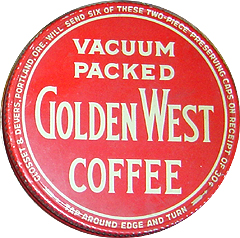 Golden West Three Pound Coffee Jar Lid
December 18, 2004

I already had this jar and although it had come with a lid, it was in terrible condition.
So, I sanded, primed, painted and put it on another jar.
When I saw this one on eBay, I just HAD to have it.
We now have three different three pound coffee jars.
These lids are a tough find as they are not standard sizes like mason jars are.
(regular or wide mouth)
A fellow collector told me these are 79mm in size.
A regular mouth mason lid is 70mm.
It is in such brilliant condition. I was sooo thrilled to get it.
The final price on the lid, with shipping, was $9.45.
I had earned a few bucks doing surveys and applied that amount.
The net cost to me was $3.95.


Click The Little Cookbook To Go



Back To The Main Page


Blujay - 100% Free Online Marketplace

January 2, 2005