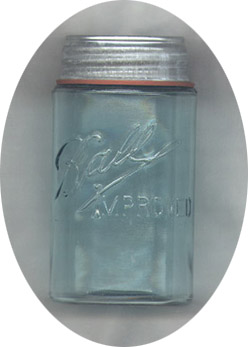 Ball Improved Mason Jar - October 21, 2000

Hunny Bunny offered to take me to Trade Days in Nacogdoches.
It is about 70 miles away so this was an all-day affair.
We also had to stop in Lufkin to pick up part of my Bunchkin's birthday gift so,
we would acomplish at least one other thing.


Despite an overcast day and a rainy morning it was quite crowded!!!
Since Hunny Bunny is about a foot taller than me,
he spotted the booth where I got this jar before I did.
As soon as I saw it, I knew I wanted it.
We looked around a bit more and returned to make
the buy before continuing our day of "treasure hunting".
This jar is one of my favorites.


Click The Little Cookbook To Go



Back To The Main Page
Click The Mouse



To E-mail Mimi


Blujay - 100% Free Online Marketplace

October 21, 2000