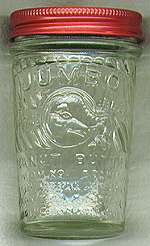 Jumbo Peanut Butter 4 Ounce Jar
Nacogdoches, Texas
March 13, 2004

It was my birthday
and Hunny Bunny said we could do whatever I wanted to do.
It had been a long time since we visited Nacogdoches--the monthly flea market was open.
When we finished up at the flea market, we headed downtown.

Among the many neat things we found, this jar was the find of the day.
I thought the 7 ounce Jumbo Peanut Butter jar I found last year in
LaPorte, Indiana was too cute--I never could imagine what the smaller ones were like.
Then we found this tiny 4 ounce jar.
Words cannot describe how charming this jar really is.
With tax, it was $9.26.


Click The Little Cookbook To Go



Back To The Main Page
Click The Mouse



To E-mail Mimi


Blujay - 100% Free Online Marketplace

March 14, 2004