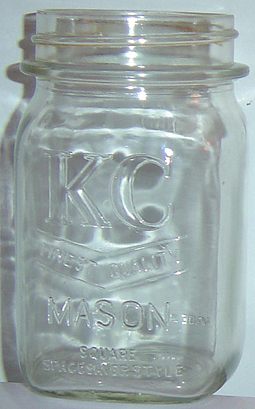 K C Finest Quality Mason
Square Space Saver Style Pint Jar
March 19, 2005

Me, Hun Bun and our future niece headed to trade days
(Our nephew & his soon-to-be bride were in town to get married)
but, ended up having to track down the lady that sells local honey.
I was running low and she wasn't at trade days this month.
We ended up stopping at the Texas Garage Sale--a resale shop that I try to stop at once in a while.
I found this jar with nails in it. Without the nails (I really didn't need them) it was 25¢.


Click The Little Cookbook To Go



Back To The Main Page
Click The Mouse



To E-mail Mimi


Blujay - 100% Free Online Marketplace

September 7, 2005