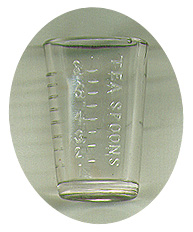 Vintage Glass Medicine Cups - July 2002

Since it is VERY hot & humid, here in Texas at this time of year, I didn't do very much treasure hunting in July 2002. This month, I will share something of a small collection I have. Vintage glass medicine cups are handy little things to keep around. They are inexpensive--typically $1-$3 each. Some come with a pouring spout, others are plain and embossed with teaspoons, tablespoons, ounces and cc's. Some are also marked with a "dessert" measurement.
I use them for measuring small amounts, like that teaspoon of vanilla when baking.
Another serves as a toothpick holder--easy to grab one to check if the quick bread is done.
My daily vitamins are held in yet another--so I don't forget to take them.


Click The Little Cookbook To Go



Back To The Main Page
Click The Mouse



To E-mail Mimi


Blujay - 100% Free Online Marketplace

August 8, 2002