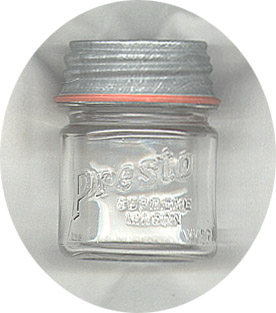 Presto Half-Pint Mason Jar
February 10, 2001

It was Saturday morning and we got up early to go to a charity tag sale.
I didn't find anything spectacular there but,
on the way back Hunny Bunny insisted we stop at the Big Blue Resale Shop.
Open every Thursday-Saturday, I have purchased many treasures
there and return monthly to see if they have anything new.
I'm glad we stopped.
This little Presto Half-Pint mason jar is
just too cute and was the find of the day, only 25¢!!!


Click The Little Cookbook To Go



Back To The Main Page
Click The Mouse



To E-mail Mimi


Blujay - 100% Free Online Marketplace

February 10, 2001