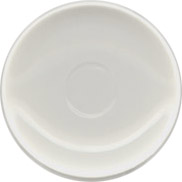 Saucers - July 4th Weekend
July 3, 2000

My Hunny Bunny took me treasure hunting, he had the day off from work.

I had been searching for these saucers for quite some time. I found three!!!
Since I already had one, this find made a set of four complete.
They were 39¢ each at Goodwill Thrift Store.

I also found another cup, for 29¢ at a different Goodwill Thrift Store!!!
Now, I have six cups and four saucers.
When he was little, my Bunchkin used to drink coffee out of these little cups.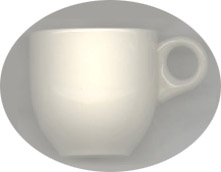 These cups and saucers are just too cute.
The cups stand just over 2½ inches tall and the saucers are 5 inches in diameter.
They are cream colored and the cups are marked "U.S.A." on the bottom.
The saucers are unmarked.
I don't know who the maker is--Shawnee, I think.
The only other information I have is that these were
either give-aways or were sold in dime stores.
If you know who the maker is, please send me an e-mail???

Click The Little Cookbook To Go



Back To The Main Page
Click The Mouse



To E-mail Mimi


Blujay - 100% Free Online Marketplace

July 3, 2000