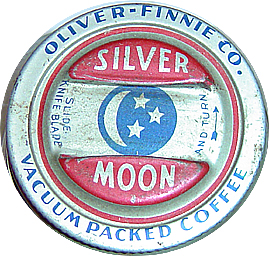 Silver Moon Coffee Jar Lid
Gladewater, Texas
June 23, 2001

Hunny Bunny enjoys his coffee

so, for us, it is a natural extention of
mason jar collecting to also collect embossed, mason-type coffee jars.
We already had the Silver Moon Coffee Jar (one of Hunny Bunny's favorites in our collection)
and since original lids are really tough to come by, this, we felt we shouldn't pass up.
It was marked $18 but, we were able to negociate a 15% cash discount.
This made our final total $16.56, this included sales tax.
It was attached to a quart sized "waffle" pattern coffee jar with an oval space for a label
Since I didn't have a jar like this, it was sort of two buys in one.


Click The Little Cookbook To Go



Back To The Main Page
Click The Mouse



To E-mail Mimi


Blujay - 100% Free Online Marketplace

September 7, 2001