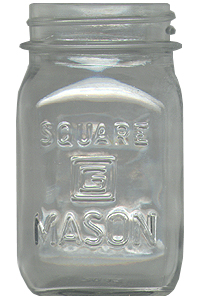 Square G Mason - May 18, 2001

To make a long story short, I had a bunch of errands to do
and had to kill an hour waiting for photographs to be developed.
My Bunchkin was with me so, we headed to the Big Blue Resale shop.
I thought that would be a great place to kill an hour.


After digging in two BIG boxes of jars,
I spotted a paper grocery bag sitting on the floor with jars inside.
This one was inside that bag.
Since the big boxes were marked "12 for $2",
I picked out 5 other jars and asked, "Could I buy 6 for a dollar???"
"Yes" was exactly what I wanted to hear!!! After doing the math, this jar was 16¢!!!


Click The Little Cookbook To Go



Back To The Main Page
Click The Mouse



To E-mail Mimi


Blujay - 100% Free Online Marketplace

May 18, 2001