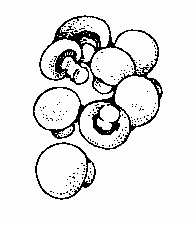 Stuffed Mushrooms
I made-over this recipe to more suit my eating plan.
1˝ to 2 pounds whole fresh mushrooms
(About 20 BIG mushrooms)
Remove stems from mushroom caps.
Set caps aside.
Seasoned filling:
1/4 pound lean ground beef
or 1 packet soy crumbles
1 tablespoon cooked bacon
or ready-to-use bacon substitute
(Like Bac-Os bacon flavor bits)
3 tablespoons chopped onion
or 2 tablespoons dehydrated onion bits
1/4 teaspoon Italian seasoning
1 tablespoon chili sauce
2 tablespoons fine, dry bread crumbs (unseasoned)
1/4 teaspoon salt
1/8 teaspoon pepper
1/3 cup Mozzarella cheese
In skillet, cook beef and bacon, stirring constantly, until beef is no longer pink.
(You can skip the cooking if you use the soy crumbles & dehydrated onion)
Add onion and Italian seasoning. Sauté until onions are tender.
Remove from heat. Stir in chili sauce, bread crumbs, salt and pepper. Add cheese.
Stuff each cap with filling. Place mushrooms on ungreased baking sheet.
Bake in 350° oven until done, about 15-18 minutes, until cheese is melted.

Click The Little Cookbook To Go



Back To The Main Page
Click The Mouse



To E-mail Mimi

December 17, 2003