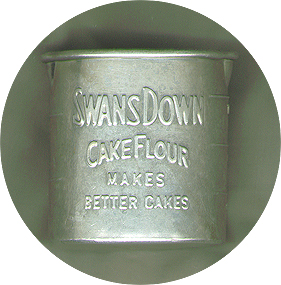 Swans Down Cake Flour Measuring Cup
Memorial Day Weekend
May 26, 2002

We stopped at Hearts & Hands Antique Mall in Humble, Texas on our way to pick our Bunchkin up at the airport and found this Swans Down Cake Flour aluminum measuring cup.
I was thrilled to find it--it is in absolutely beautiful condition.
I really like kitchenware advertising pieces and this too,
will join my growing collection of stuff on my utensil rack, it was $4.95.


Click The Little Cookbook To Go



Back To The Main Page
Click The Mouse



To E-mail Mimi


Blujay - 100% Free Online Marketplace

May 27, 2002