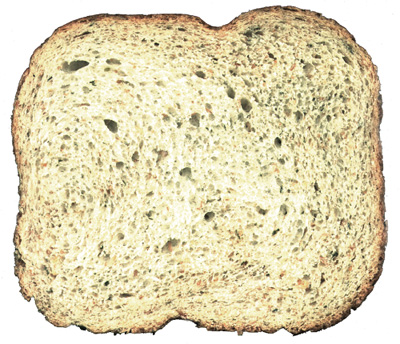 American Garlic & Parsley Bread
Original Recipe From: Swift 10,000 Recipes CD-ROM.

1¼ cups water
2 tablespoons olive oil
2-3 garlic cloves, minced
3 cups bread flour
3 tablespoons wheat germ
3 tablespoons wheat bran
1¾ teaspoons salt
2 tablespoons sugar
3 tablespoons chopped fresh parsley
or
3 teaspoons dried parsley
1½ teaspoons active dry yeast
Assemble all ingredients in the order suggested by
your bread machine manual and use basic white bread cycle.
Let the loaf cool before slicing. Serve plain or toasted.
My family loves this with a spaghetti dinner.
Original recipe also suggests using this bread for grilled and savory sandwiches.
I made a few substitutions, olive oil for vegetable oil and dried parsley for fresh.

Click The Little Cookbook To Go



Back To The Main Page
Click The Mouse



To E-mail Mimi

1998