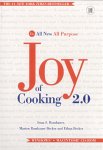 Bread Machine Brioche
Originally Published In The Joy of Cooking CD-ROM

Makes a 1-pound loaf
½ cup water
1 large egg
1 large egg yolk
6 tablespoons unsalted butter, at room temperature
[cut into tablespoon-sized pieces--do not melt]
2¼ cups + 2 tablespoons bread flour
2 tablespoons sugar
½ teaspoon salt
¾ teaspoons quick rising yeast
*I used Fleischmans Instant Yeast--see notes.
Assemble ingredients in the order recommended by your bread machine manufacturer.
I put the pats of butter on the bottom with the water and eggs.
I used the "sweet" cycle because my manual said to use
this cycle if my recipe was high in sugar, fat, eggs or cheese.
My particular machine, (Toastmaster Bread Box--model number 1171)
calls for the order I have listed in this recipe.
Most newer bread machines call for this order:
water, anything liquid, flour, additional dry ingredients, and yeast on top.
I am lazy

and wanted brioche that I could do completely in the machine.
I had to adjust this recipe. It was originally published in the Joy of Cooking CD-ROM.
Without a bit of additional flour, it was impossible to achieve a proper dough ball.
I tried making a 1½ pound loaf but it hit the top of my machine, which has a 1½ pound capacity.
If you have a 2 pound machine, I think you could safely increase this recipe to 1½ pounds.
I made French Toast with this bread and it was extremely good.
Note: The Fleischmans Instant Yeast I used was purchased in bulk at Sam's Club.

Click The Little Cookbook To Go



Back To The Main Page
Click The Mouse



To E-mail Mimi

1999